Disclaimer: This post may contain affiliate links. For more on our use of affiliate links and our privacy policy please visit our disclaimer page.
You might guess by the name Ghastly Girl, but Halloween is one of my absolute favorite holidays. In fact, I pretty much live and breathe Halloween all year. ( …and go a little crazy when fall rolls around!)
Kids love Halloween too, and why wouldn't they? Candy, costumes, pumpkins, and all kinds of spooky fun.
This is a fantastic holiday to work into any lesson plan, therapy, or other activities you have going on for your little nerdlets. Everything from counting spiders to washing pumpkins can have some type of spooky learning in there.
As a special needs mom, I know how important sensory items can be. My daughter is on the higher end of the Autism Spectrum. However, we have friends who are all over the Spectrum. For each of these kids, sensory items can be fun and educational.
Even neurotypical kids can learn from and enjoy sensory items. My son, who is neurotypical, finds use in them for anger control and other helpful things.Many of the items we enjoy this time of year are wonderful for teaching children to be mindful in a variety of situations.
Our Top 10 Favorite Halloween Sensory Activities
Our list is in no particular order and includes fun Halloween activities for kids of all ages and abilities.
The Monster Stew slime activity from No Time for Flashcards is another one that I could see tons of seek and find fun potential in. They decided to use bugs ( which I love ) but you could add any variety of creepy crawlies to this one. Slime is such a great sensory item. My daughter, who has impulse control issues and attention issues has a sensory activity from time to time in which she will squish slime in one hand while writing with the other. This helps her to stay focused. ( I know, it sounds weird but it works SO WELL. Crayola's model magic clay works very well also!)
For even more spooky squishy fun Fantastic Fun and Learning has an adorable Jack-O-Lantern squish bag idea on their site. This one would be a fantastic option for younger children or those who are lower functioning to still take part in the holiday festivities. The possible configurations of poor Jack's face are limitless, and who doesn't like squishing? This one would be great for other characters as well with just a simple change in the face color and features.
When it comes to colorful squishy fun the site Fun at Home with Kids has a great idea as well. This time, the eyes have it with these squishy monster eyeballs made of water beads. This is a great activity that keeps the mess contained like the Jack-O-Lantern bags and offers a variety of question starters and learning potential! How many eyes would your nerdlet's favorite monster have?
When it comes to eyes, though, my favorite activity this season is the ISPY bottles shared from Learning & Nesting. As an adult, I still love this one and could look at one of these for a while trying to figure it out. ( Maybe because I'm part of the generation that grew up with the frustration of finding Waldo on all of his adventures?) The possibilities are completely endless for these as well. A variety of different items can be hidden in so many different materials. Hide bugs in a spiderweb, icky stickies in the sand, or even monsters in "snot".
The Goblin Guts Sensory bag from Growing a Jeweled Rose is just plain fun. This one uses green noodles and creepy crawlies to simulate a goblin's insides. There are several variations that can be done with this one also including pumpkin guts, or a melted witch ( also shown on their site )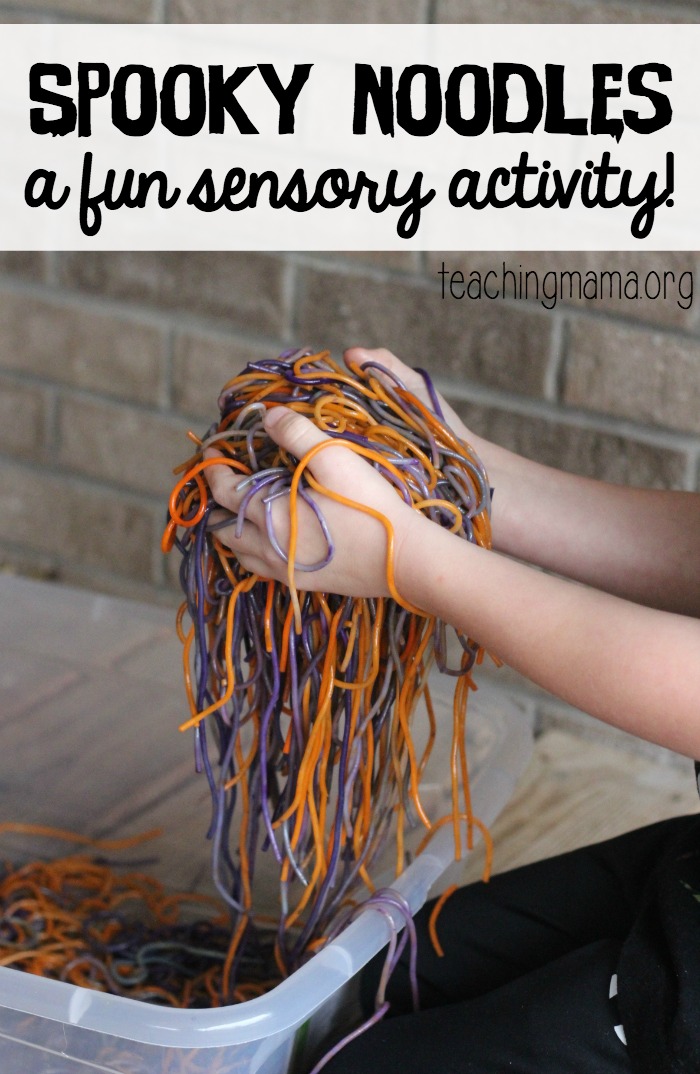 Another super fun one that incorporates noodles is the Spooky Noodle Bin from Teaching Mama. Noodles dyed Halloween colors can provide so much sensory fun on a low budget.
For more Halloween sensory fun on a budget, Modern Preschool has a great idea using rice and bowtie pasta to make a bat sensory bin. Throw in a pair of plastic tweezers and spend a while working on fine motor skills as kids pick and sort their favorite bats out of the bin.
Share Your Ideas
For more great sensory play ideas be sure to follow Ghastly Girl on Pinterest! However, we would love to hear your ideas! Did you come up with a sensory bin or activity for fall? Share it in the comments below!
Looking for more homeschool or learning ideas and activities? Head over to our Homeschool Mamas page for activities, printable worksheets, and more! Be sure to check out our Halloween Math Problem Worksheets while you are there!
Happy Learning!
Twitter | Facebook | Instagram | Pinterest
Ghastly is a paranormal historian living in Arkansas. She writes on mental health, chronic illness, crafting (or at least trying to), and her love of cupcakes when she isn't herding cats or homeschooling her special needs daughter.